About us
Crematorium History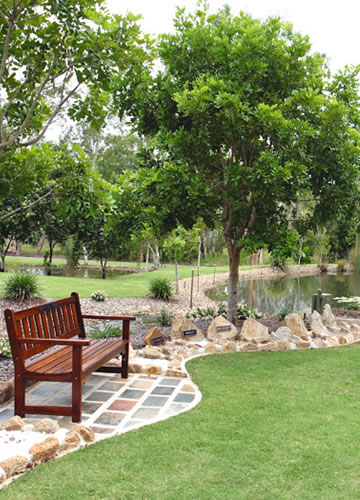 The Great Northern Garden of Remembrance formerly known as the Caboolture & Districts Crematorium and Memorial Gardens, was officially opened on the 11th September 1997 by the honourable Cr J.T. (Tom) McLoughlin, Mayor of the then Caboolture Shire Council. The first cremation took place on the 28th August 1997.
Great Northern Garden of Remembrance was designed and built by one of the 2 giant American corporate death-care providers that took over a large part of the Australian Funeral Industry in the early 90's. The largest of these companies restructured to become a publicly listed multinational company called Invocare and is majority owned by subsidiaries of some of the largest banks in America, UK and Australia including J P Morgan, Citicorp, HSBC & NAB. In late 2010 Invocare announced a takeover of the smaller corporation which had also restructured and was called Bledisloe (who by now had returned to Australian ownership). Due to the large percentage of market share Invocare would hold after the acquisition, the ACCC required them to divest themselves of one of their crematoriums.
In mid-2011 the Gow family, who have over 100 years experience in the funeral industry, expressed an interest in purchasing Great Northern and settlement occurred in September 2011, allowing Great Northern to become a Family Owned Crematorium
---
The Gow Family
For more than 4 generations the Gow family has served the people of South East Queensland with quality funeral care. We are extremely proud of our heritage and particularly the fact that we are still owned by a Brisbane Family.
We believe that by being family-owned we are able to give a more personal service and be more flexible to the individual needs of our clients.
We live for our business and everything we do reflects our on-going commitment to providing affordable, quality services to our community.
Everyone (owners and employees alike) at Great Northern is driven by the ideals of family, partnership and responsibility, and that commitment translates to serving you and your family better.
There is a special 'family like' camaraderie amongst the staff and we all share a common desire to acknowledge the trust our families place in us, by providing the best possible funeral care.
---